Customers who viewed this item also viewed
Tractor Mounted Water Pump -VENERONI ETR
Veneroni ETR Tractor Mounted Water Pump
Tractor driven propeller pump with hydraulic rotation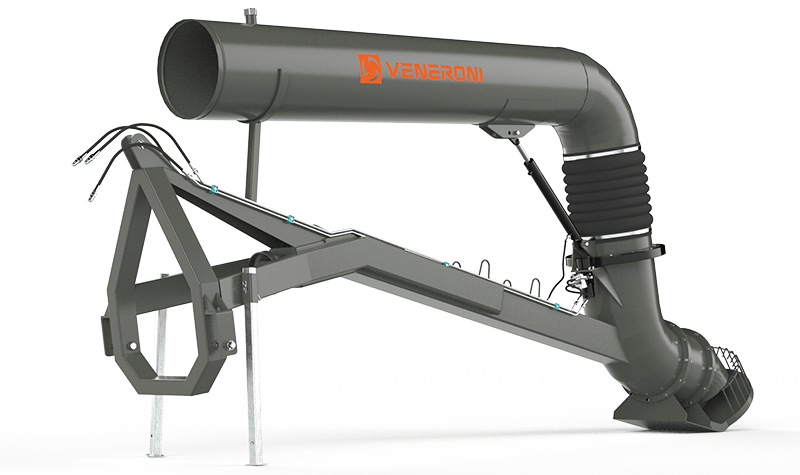 | | |
| --- | --- |
| Drive | Tractor |
| Installation | Mobile transported by tractor |
| Pump type | Propeller |
| Transmission | Grease lubricated with watertight bottom support |
| Series feature | Delivery pipe with hydraulic rotation and lifting |
| Painted version | Painting with zinc phosphate epoxy primer and polyurethane enamel |
| Galvanized version | Hot galvanized carpentry |
| Model | | ETR 50 | ETR 50-2 |
| --- | --- | --- | --- |
| Ø delivery pipe | mm | 500 | 500 |
| Max depth of work | m | 3,8 | 4 |
| Max flow | mc/h | 3600 | 3600 |
| Max head | m | 5,8 | 11,6 |
| Max power | kW | 52 | 103 |
Take the field and direct the flow
Centrifugal pump [ ATN | ATR | ATS ]. High pumping versatility and great flexibility of use. Propeller pump [ ETR ]. High flow at low power with significant energy saving.
Grease lubricated transmission with watertight bottom support. Extreme resistance to stress, maximum reliability even in dry operation, simple and easy maintenance.
Hydraulic extension of the delivery pipe for maximum adaptability to different working conditions [ ATS ]. Parts specifically designed to optimize product's effectiveness and enhance its features.
Painting with zinc phosphate epoxy primer and polyurethane enamel. High surface materials' protection. Hot galvanized carpentry. High resistance to corrosion and abrasive agents.
VENORONI range of tractor mounted high input water pumps are exclusively distributors by Agri Market Insight and Access Ltd in the UK and Ireland, for their full range of Water pumps, please feel free to contact our helpful team, by clicking here.
About VENORONI
Cutting-edge technology, maximum efficiency, tested quality: since 1957 Veneroni Srl is the reference point in the sector of pumps for lifting water for irrigation, reclamation, aquaculture and sewage treatment. In constant expansion and evolution, Veneroni Srl, thanks to the experience and know-how of its specialized staff, is able to support the customer throughout the process of designing and manufacturing the pumps, with passion and competence.
Customers who viewed this item also viewed